Optimized Search Bar
The Ethereum space saw tremendous growth recently with new projects and concepts sprouting one after the other. This then gave birth to a countless number of tokens where ultimately sifting through them to find that one token you are actually looking for gets tricky. In catching up with this, we have been optimizing the Search Box to deliver faster and more accurate results.
For starters, when searching for a project or a token by a token's name, the results will now be prioritized by relevancy first - in terms of their name likeness and availability of project information (amongst other accounted variables). This aims at reducing the chance of clicking on the wrong contract address with the same or a similar token name while also greatly reducing the search time for a snappier and more efficient user experience.
(As a refresher, aside from using the name or the contract address to search for a token, you can also search them by their symbol, website address or public name tag)
In the previous iteration of our search box, the results were focused on listing down all the contract addresses with attributes that match the search phrase. The results were accurate nonetheless, but for a token that shares a name with a lot of other similarly named tokens this also meant the users would have to carefully check the contract addresses of the search results one by one to make sure that they are clicking on the right contract address.
Conversely, to fine tune the search results, you can also change the filter setting of the Search Box and specify the types of results that you are looking for. The available filters are:
Addresses
Tokens
Name Tags
Labels
Websites
For example, after applying the Websites filter, the search results will be tailored to reflect your search phrase exactly based on the token's website address. This is true to all the other filters as well. As another example, when searching by a token name or symbol with the Tokens filter on, the results will now list all the tokens that have a name or symbol similar to or are exactly the same as your search phrase.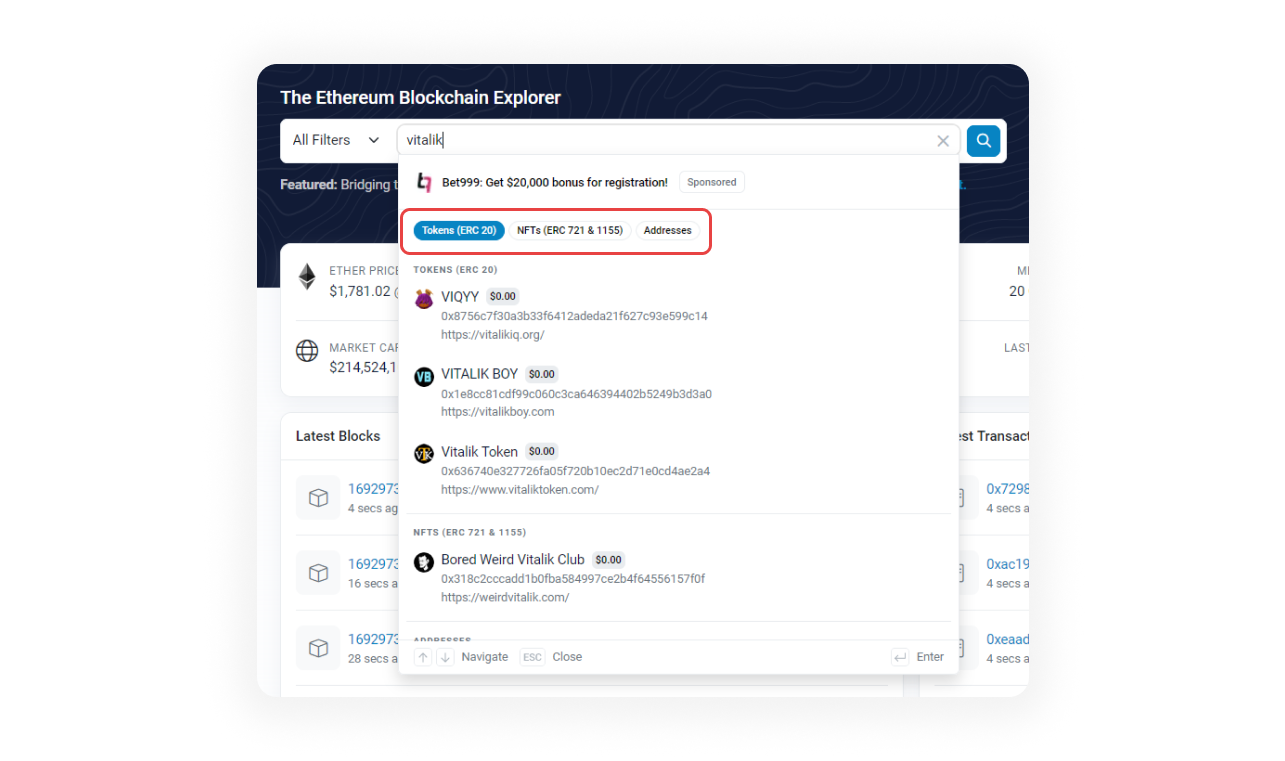 To further tune the search result, you can also type in your search phrase (do not press Enter or click Search after typing in the search phrase) and select from the recommended search results listed below the Search Bar. From here, you can filter the given information according to their token standards, addresses or labels.
We hope that this improvement to our Search Box makes your experience with our block explorer smoother and more efficient. Let us know if you have any feedback!