How to import a Wallet Address on MyEtherWallet
Essentially, to hold ETH or any Ethereum-based tokens, you would have to first create a wallet address. This can be done through a myriad of wallet service providers available such as MyEtherWallet (usually referred to as MEW) or MetaMask. Once you have created a wallet address on the platform that you prefer, you can actually import that same wallet address to other platforms. This means that you can import your MyEtherWallet address to MetaMask, vice-versa, and also a wallet address from any platform to other platforms as well.
(There is a rich list of wallet service providers in our directory. You can check it out here.)
Before you proceed with importing a wallet address, please make sure that you are on the right website by double-checking (or even triple-checking) the website's URL and SSL settings. Exposing the login details for any of your wallet addresses to a phishing website means that the security of your wallet address has been compromised and the phishing website can now access your funds.
For this particular guide, we will be using MEW as the wallet service provider. Kindly refer below:
Head to the website: https://www.myetherwallet.com/.
Click on Access My Wallet.
After you have clicked "Access My Wallet", you will be directed to a page where you can choose one of four methods to import your existing wallet address to MEW.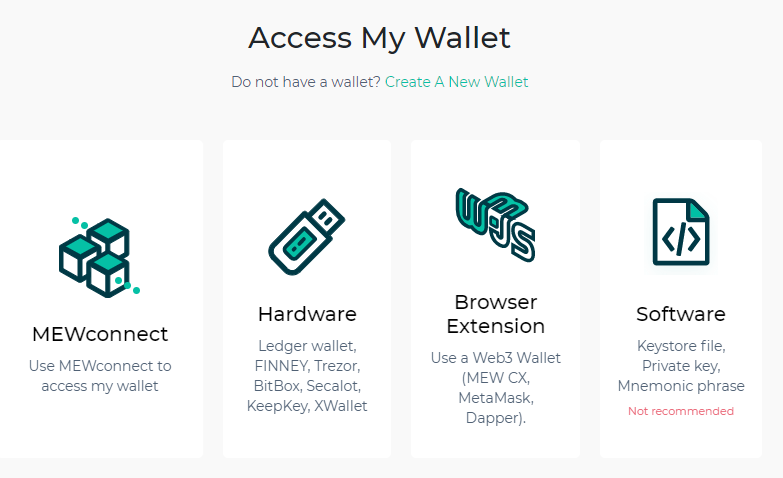 MEWconnect:
MEWconnect is a mobile wallet app developed by MEW that functions as a hardware wallet without all the hardware.
Clicking this option will pop out a QR code that you can scan through your MEWconnect mobile app to import your wallet address.
On the mobile app, tap on the blue "Scan To Connect" button at the bottom of the wallet dashboard to scan the QR code on your browser.
Hardware:
MEW supports importing from Ledger, FINNEY, BitBox, XWallet, Trezor, Secalot and KeepKey hardware wallets.
Upon selecting this option, a list of supported hardware wallets will appear as below: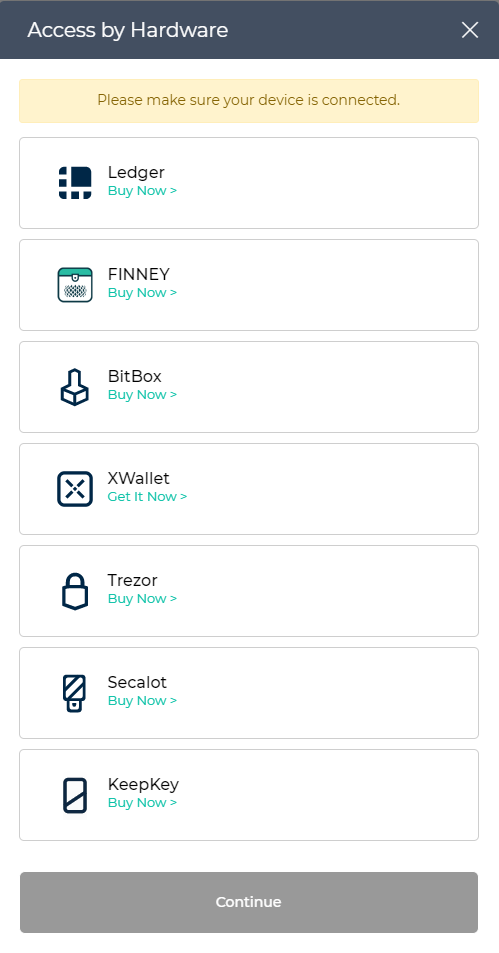 Click on your hardware wallet device and further instructions on how to import your wallet address will be shown.
Browser Extension
If you are using a browser extension wallet such as MetaMask or Dapper, this is the option you should choose to import that wallet address to MEW.
After selecting this option, if you are not logged in to your wallet, a pop-up to log in to your wallet address will appear which is then followed by a pop-up to allow MyEtherWallet to access your wallet.
Software
First, you have to make sure that you have either the private key, Keystore file or mnemonic phrase of your wallet address.
These are created simultaneously when you create your wallet address and (depending on the wallet service platform that you use) are usually given to you right after the creation process. Also, when you are given access to these, you would also be reminded to keep them in a safe, preferably offline place where only you could possibly know. This is important because they are not retrievable or renewable once lost.
There are three ways to import an address via this option. That is through the:
Keystore File

You will need to browse and select the Keystore file that is located in your storage.

Mnemonic Phrase

Mnemonic phrase is a set of 12 or 24 sequential random words that should be entered exactly in the sequence that they were originally created.
If you remember putting in an extra word (or was asked to add one extra word) during the address creation, click on the circled setting (refer screenshot below) to Yes and type the extra word in the field below it.
Click "Continue".

Private Key

Copy and paste the private key to your wallet address into the empty field provided.
Click "Access Wallet".
So that's it on how to import your wallet address to MyEtherWallet! We will also be writing on a similar process for other wallet service providers next. Should you encounter any issues or difficulty with this guide, kindly contact MyEtherWallet's support team directly at [email protected].
Note: This guide is valid as of January 16th, 2020.